Nouvelle date supplémentaire pour PRAGUE le 24 Octobre 2017
Mireille sera donc en concert à PRAGUE les 24 & 25 Octobre 2017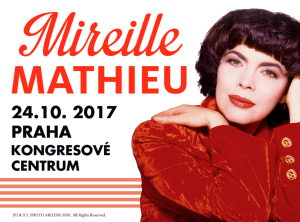 MIREILLE MATHIEU 2017

CHANSON LEGEND MIREILLE MATHIEU
WILL ADD THE SECOND CONCERT IN PRAGUE, ON OCTOBER 24, 2017!
French singer Mireille Mathieu will perform with her orchestra TWO! concerts in October 2017 in the Prague Congress Center.
Mathieu is one of the most popular chanson singers in history. In Prague this famous and legendary singer will sing again after very successful performance which was immediately sold out last year.
Mireille Mathieu was the most famous during the 1970's and since then she has remained a leading figure of the music industry. She is one of the greatest personalities of the French chanson. This charismatic singer, who is often compared to the iconic Edith Piaf, has recorded over 1,200 songs, released over 40 albums and performed on all continents of the planet. During her career she collaborated with Charles Aznavour, Johnny Hallyday, Julio Iglesias, Paul Anka and Frank Sinatra.
This charming French lady will be performing with a 12 member orchestra again her best songs, such as Mon credo, Qu`elle est belle or Mon bel amour d`été.
Really limited number of VIP tickets guarantees the best seats in the auditorium and invitation for refreshment at hall Panorama before and after koncert.
Tickets are available at Ticketportal sales points as well as on-line
pay and print them directly at ticketportal.cz – HOMEtickets!